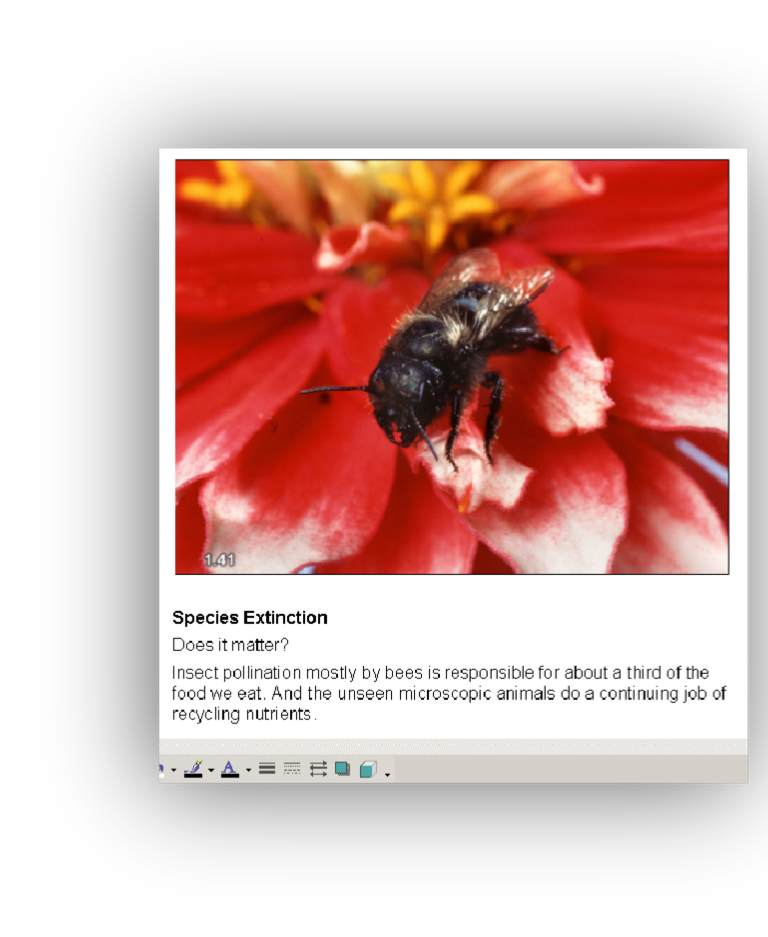 Species Extinction
Does it matter?
Insect pollination mostly by bees is responsible for about a third of the food we eat. And the unseen microscopic animals do a continuing job of recycling nutrients.



Green Weaver
Version 2 - PowerPoint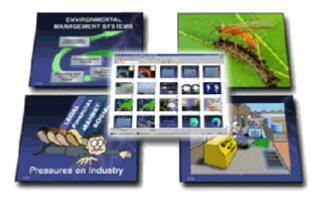 Green Weaver is the perfect companion for our 'Working Environment' training pack.
Incredible value! Where else can you get so much packed onto just one disc?
Green Weaver is an environmental training resource for PowerPoint users which you can use straight from the box to deliver instant environmental training sessions.
Or you can easily edit it to meet your specific needs. It's built around a flexible pre-structured framework and picture gallery that illustrates all the main environmental business issues. It will help you make your presentations more effective by tailoring them to the needs of your audience. You can use it for many different sessions in many different ways.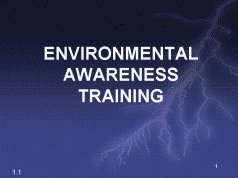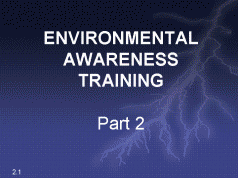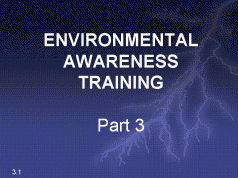 Part 1: Global and Local Environmental Concerns
Depletion of Natural Resources - Greenhouse Effect, Global Warming and Climate Change - Tipping Points - UK Energy Consumption – Deforestation – Pollution – Waste - Contaminated Land
Part 3: Managing Environmental Impacts
Individual Responsibility – Preventing Water Pollution – Bunds - Spills – Solvent Management – Nuisance - Biodiversity and Wildlife
Waste Disposal – Waste Transfer Notes – Hazardous Waste – Rethink Waste and Resources - Turning Ideas into Action – Waste Minimisation
Part 2: The Impacts of Environmental Issues on Business
Sustainable Development
Pressures on Business: Legal, Financial, Market and Social
Development and Introduction of an EMS
The complete Green Weaver package for only £186 + VAT
The "ready-to-read" script is available in the "Notes Page" view of PowerPoint for your convenience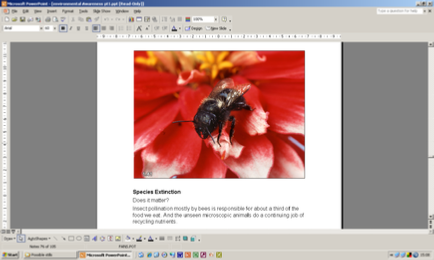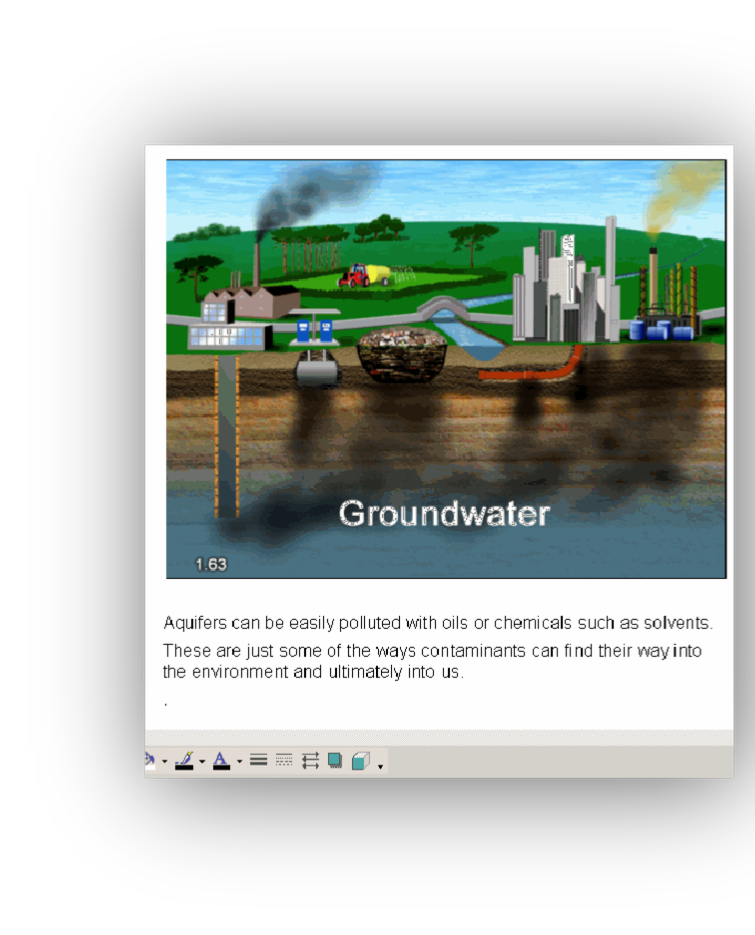 Aquifers can be easily polluted with oils or chemicals such as solvents. These are just some of the ways contaminants can find their way into the environment and ultimately into us.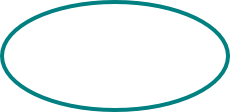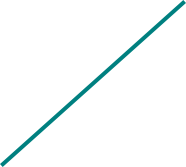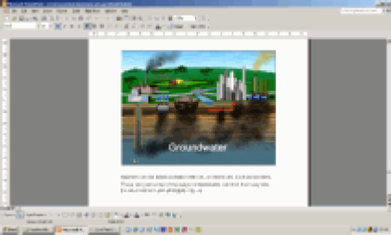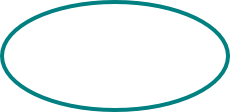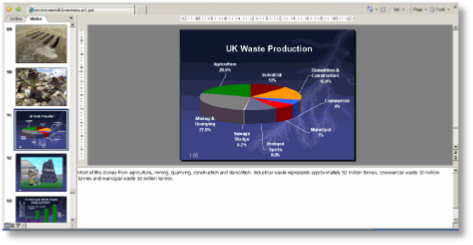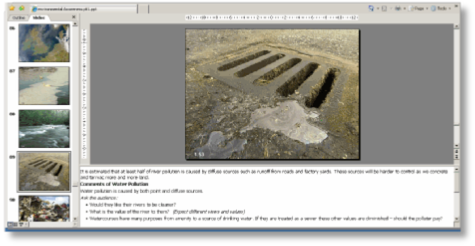 Change the order of slides or substitute them with your own or others from the gallery.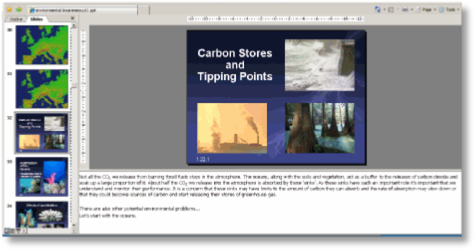 Use it as the backbone for a one week course - or a whole series of toolbox talks!
Whether it's introducing 14001, preventing spills, describing contaminated land or waste management - Green Weaver is flexible, adaptable and fast.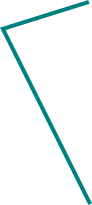 What's New in Green Weaver 2
If you are already a user of Green Weaver, you'll find most of this product and the framework familiar. However we have made some important changes, particularly to Part One. In what seems to have been a very short space of time since we completed the first version of this PowerPoint, the evidence on global warming has been piling up dramatically and climate change has seemed to be a permanent fixture in the news.
We've updated the section on climate change significantly with the inclusion of graphics and an explanation of the Thermohaline, abrupt climate change, changes to the permafrost and tundra in Siberia and Alaska, the recent dramatic reduction of polar ice, soil carbon release and much more.
In Part Two we've changed the section on legislation and put more emphasis on potential liability.
And of course in Part Three we've taken out references to Special Waste and replaced it with new notes on the Hazardous Waste Regulations. We've also made reference to the List of Waste Regulations and the European Waste Catalogue. We've even added some extra slides to the gallery.
In the trainers support notes you will find some additional trainer tips and suggestions and notes for the optional integration of video material. These include our new videos on Hazardous Waste, Spill! training video and 'It's Easy With Hindsight' our set of quirky trigger videos which deal with different aspects of resource depletion including oil, forests and fisheries. If energy saving is on your training agenda, you may also wish to include the video 'Watts in Your Wires' to help with energy saving in the office.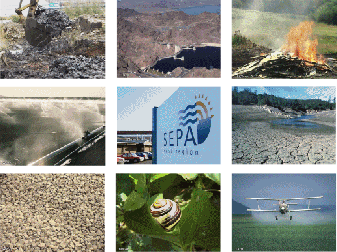 Green Weaver is a complete 'stand alone' product but for maximum flexibility it is designed to integrate seamlessly with our videos. The additional picture gallery includes stills selected from our core training programmes, so you can make direct references to reinforce your key learning points.
Ideal for seminars, training sessions, conferences, toolbox talks, presentations, lectures, workshops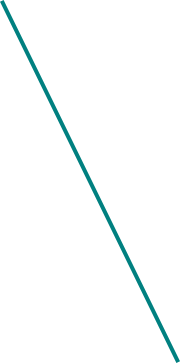 You might also be interested in these products
Lock, Stop & No Leaking Barrels
Do What It Says On The Bin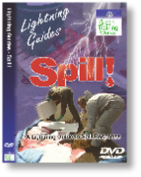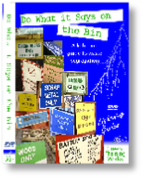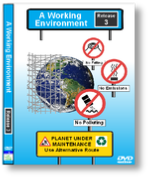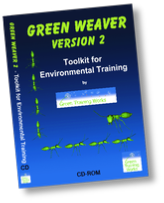 Green Weaver for PowerPoint - the complete, integrated ENVIRONMENTAL TRAINING package
Stamp out boring lecture slides! Go easy on yourself - let the pictures tell the story and galvanise your audience with Green Weaver