Designs on the Environment
This documentary style video explains the principles of ecodesign using case studies and an example deconstruction exercise with ecodesign technicians. Also ideal for waste minimisation and supply chain training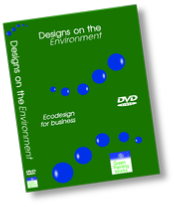 Money for Nothing and your Waste Tips for Free
This classic DVD produced originally for the Environment Agency will help you and your business to make a start on minimising waste, saving money and helping to protect the environment.


No Time To Waste
A Practical Guide to Waste Minimisation
Another classic training programme produced by SEPA. This video uses case studies to demonstrate how to apply a systematic approach to waste minimisation.


This video is a story of sustainability in action at grass roots level.
The story captures the imagination of everyone who hears it, providing an example of how, through a partnership approach, a unique, innovative and practical solution has been found to an environmental problem.