Waste Your Duty of Care is a training resource for PowerPoint users. You can take it straight from the box to deliver instant environmental training sessions or you can easily edit it to meet your specific needs. It's built around a flexible pre-structured framework and ready-to-read script that illustrates all the main Duty of Care requirements. It will help you make your presentations more effective by tailoring them to the needs of your audience. You can use it for many different sessions in many different ways.
Waste - Your Duty of Care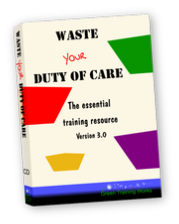 The Land That Time Forgot
Introduced by Tony Robinson, this video describes in simple terms the operation of a landfill
If we are to begin building a sustainable future it is important to understand what happens to our waste after it is thrown in the skip, where it goes and the role landfill will have to play for some time to come.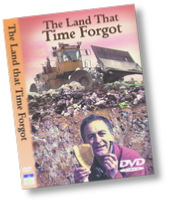 Do What It Says On The Bin
A Guide to Waste Segregation
This training video will help your workforce to understand the need for correct waste segregation by illustrating the problems that can be caused during reprocessing.
Preview


Waste – A Suitable Case for Treatment
Learn how to characterise your waste

Understand the pre-treatment requirements

Ensure legal compliance
Describes the 'basic characterisation' and 'pre-treatment' requirements of the Landfill Regulations. Essential for all businesses sending waste to landfill. Designed for those with responsibility for the management and disposal of waste. Your responsibilities don't stop with the Duty of Care - reduce the risk of prosecution with this no-nonsense video.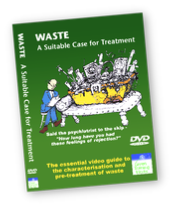 A Way With Waste cuts a clear path through the complexities of the Duty of Care, illustrating the main requirements of the law and the implications for waste producers. Using location footage and stylised graphics and cartoon characters, it highlights the roles of everyone from waste producer to waste manager. It will help guide your audience through the maze of legislation.

The Duty of Care has changed significantly over the last few years and it's essential that staff fully understand the obligations and the risks.
Preview


Hazardous Waste Regulations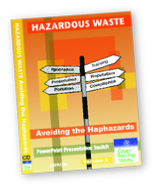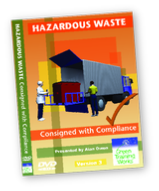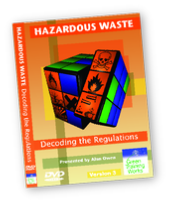 Hazardous Waste Regulations – easy as 1,2,3
Three inter-linked products to help you train your workforce. Designed to:
Ensure your staff fully understand the legal requirements with this comprehensive suite of flexible training materials.
Hazardous Waste
Decoding the Regulations
For managers responsible for classifying and consigning waste. Includes detailed guidance on identifying EWC codes.

Running time: 27 mins
Hazardous Waste
Consigned with Compliance
Shorter version of above for operators and supervisors, who may only have responsibility for the consignment paperwork and ensuring that hazardous waste is not mixed (does not include detailed guidance on identifying EWC codes).


Running time: 16 mins
Hazardous Waste
Avoiding the Haphazards
The PowerPoint "Avoiding the Haphazards" has been designed for use as a stand-alone product or to be used in conjunction with the videos to provide a complete product suite.
Detailed ready-to-read script
Trainers notes
PowerPoint with over 100 slides
Suggested exercises